Etape English | Nov '07 Patagonian animals
Welcome to Valdès!
We heard so many things about the Pensinula Valdes. This area (400 km long) close to the ruta 3, is located on the Atlantic Coast and it is the entrance in the Patagonia land.
Watch the video of our route to Valdes, click here
It is for us a significant step in our trip. And this peninsula represents our first shivers because of the hard climate and temperatures.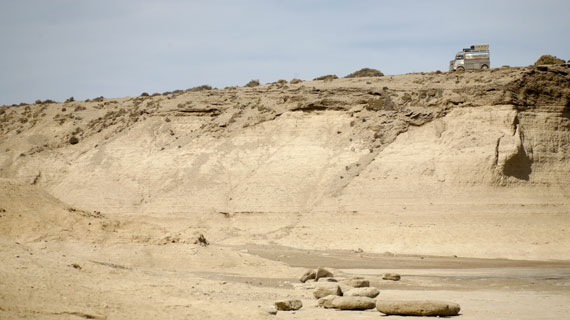 Thanks to our warm clothes!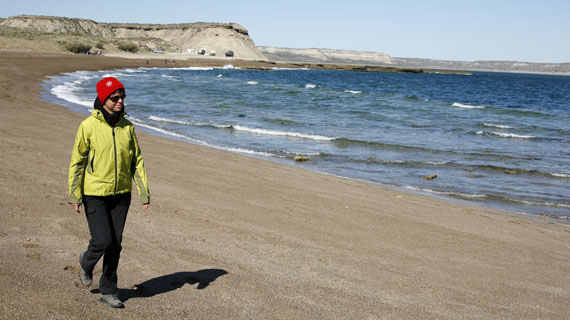 And it also represents our first thrills because of the huge desert area where wild animals, impossible to meet in our latitudes, are dividing this territory. May be we are expecting too much? Let's see what'going on…
First we park Hachille in the only campgroung that you can find in Puerto Piramides.





This small village, where just 200 people are living there, is the center for making shopping, having some diners in fish restaurants, and all the activities are around the whales. Even if the area is protecting, it is for sure a business affair. It is The peninsula's "capital"! Amazing! After two days, we get fed up of it and we try to reach the only authorized beach of the peninsula to spend some free time.





What days! We stayed for almost one week on the Pardelas's beach, waiting and watching the Ballena Franca Austral, the whale specie which is coming in the penisula to give birth and raise their baby.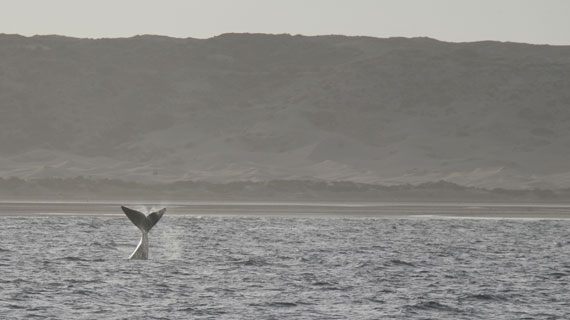 The whales starts to come in the peninsula to the mid-august and stay until december, before reaching some warmer areas like Brazil or the Faulklands islands to get other food. You can have until 800 whales in this period. Impressive. This animal looks big and not really beautiful on the face.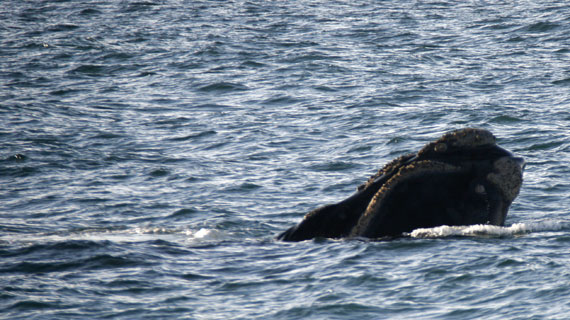 The babies's got some shells inlays on their face which use to stay for ever. Each whale can be recognized with these specific shapes after.





But anyway when you see these marin monsters, they are so discret, elegant with their tales. It is an unbelievable show that we never see before. We can see them sometimes just 20 meters far. Day after day, during one week, even with a rainy and windy weather, we stand up on the beach to watch them.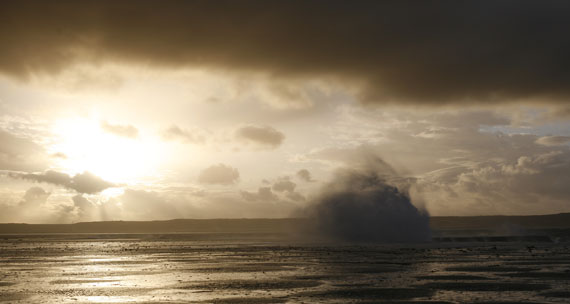 This bivouac is also the occasion to meet some new overlanders like Karin & Coen, a dutch couple who is travelling since five years around the world with a very nice Landcruiser from 1984.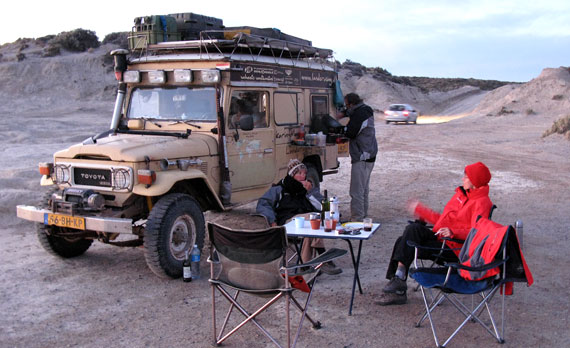 We also meet Petra & Helmut, a german couple living in Chile and travelling sometimes in all South America with their Combi VW. We share lots of moments with them, having coffee, dinner, conversations about trips and so on.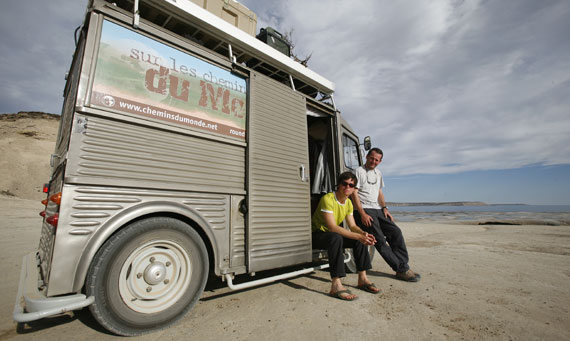 One morning, when the wind is blowing to almost 100km/h, we decide to explore the rest of the penisnula. 70 km up to the north, with our Hachille facing the wind, the sand, the dust's going inside everywhere, and the salt from the sea, we reach Punta Norte.
In this area, a guardaparque ( a ranger) is there. We discover, behind a gate and 100 m longer, seals, sea elephants, and sea lions.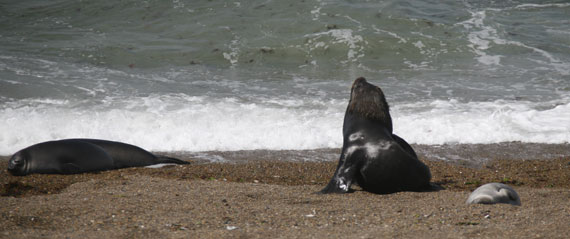 The beach is really crowdy! We watch them for all the morning but they're not moving a lot.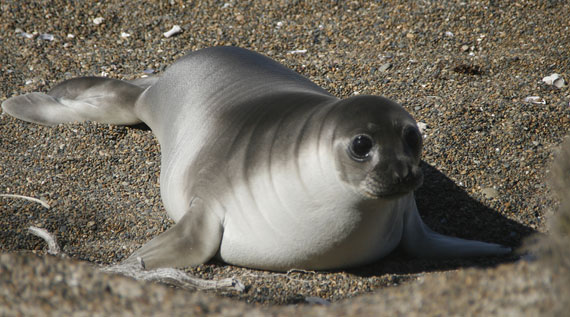 A similar behaviour as people in the south of France during the summer. They lay down under the sun, doing nothing. But there is no beach umbrellas, no men offering chocolate muffins and fresh drinks. And the animals don't look like a fresh red meat after one day under the sun!!!





The male moult before to leave the place in march. As the whales, they arrive during september.
Why do they choose each year this area? The biologists and scientifics use to say that the peninsula is the Atlantic maternity. Ok…
These animals are there to make love and having babies. What a plan!





When the femal is pregnant, she is waiting most of the time. And the male. Whouah! He is just moving when he is seing a female. And believe it. He's got a big harem!!! And as the nature is always done well… Mister sea elephant weighs for about 3t while the female is 1t. And when she is raising her baby, he is taking 3,5kg every day whereas his mother is loosing the same weight every day!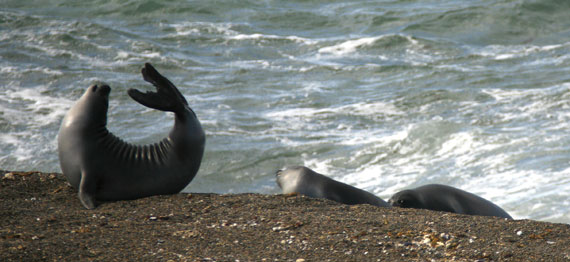 But we can stay longer on this area and we also can sleep there. We come back to our beach, having others meetings with the whales. One morning we rent a zodiac to be closer.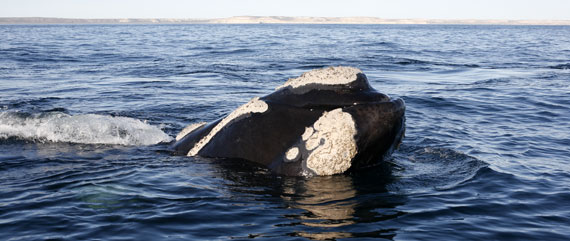 A great and wonderful moment!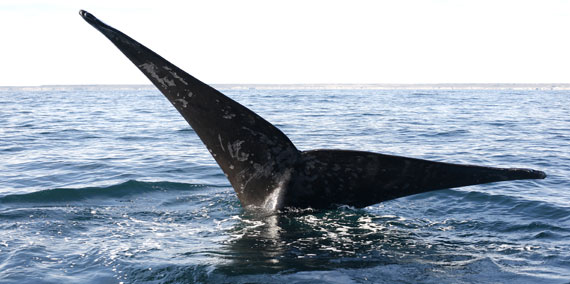 We stay on the boat for three hours, and the whales make a big show, jumping, playing with us and the boat.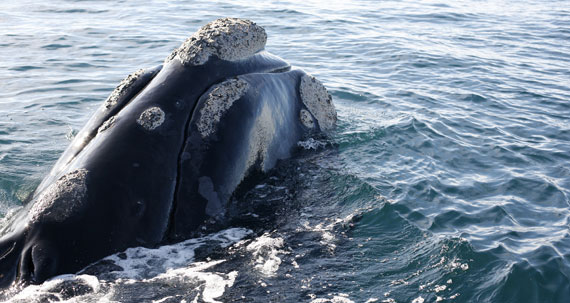 Let's share this unique moment in video, click here
The penisnula Valdès will stay for ever as a big remember for sure! Time to leave and to go again for more knowledge in Argentina… others stories for another story…


Sea, stress & fun…
We leave Puerto Madryn and the peninsula under a wonderful sun. We drive 60km on a quiet road until Trelew. A welsh place built in the XIXth century. No so many souvenirs left except the red tiny church. We reach later Rawson, a city where 9000 people are living with one of the main business: fishing! Until now, we are not having fun and lots of interest, visiting these cities. Meanwhile the weather starts to be really bad. But we decide to keep in mind the idea to be in Punta Tumbo for the night and to take the smallest roads for going along the beaches and the ocean. After 40 km, the wind is over but we are too long to be tonight in Punta Tumbo. We decide to spend the night on the Escondida playa.





Hard time to go down and awful time to go up also the day after. Who's got the idea to go there?...The rain fell all the night and the road is really muddy the day after. Yes we can say it…Hachille is brilliant even if his owners are mistreating him!!!




During two hours, poor Hachille. He was with a first gear, skidding, driving to the left, then to the right… Finally, he manages to get out from this awful and hard road. Back to the pist via Punta Tumbo. Impossible mission! We turn back to the next city Gaïman, again a welsh city where the firemen campgroungs welcome us for two days, before to drive back to Punta Tumbo with a good weather! There is nothing special in Gaïman except the traditional tea time served I sweet places.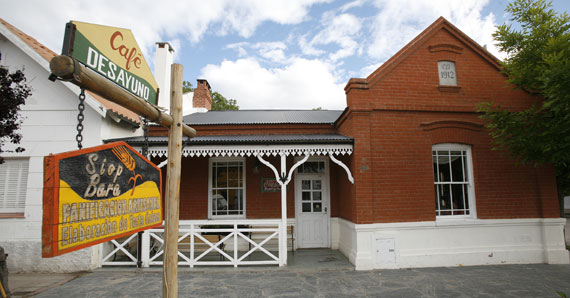 But there is so many cakes & scones that you can avoïd the diner later! Goodness! And there is a second thing… A crazy park which name is "El desafio" (The challenge) founded by Joaquim Alonso, 88 years old today.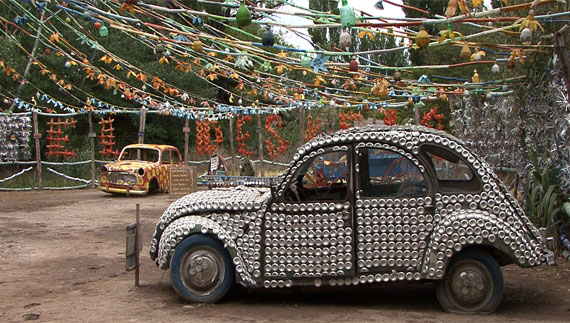 This man is finally been recognized as an artist after all he did. A little bit philosopher, humanist, ecologist and fan of life, Joaquim Alonso made during 20 years a work of art with all these scultpures created with recycled material like plastic, cardboard, or aluminium.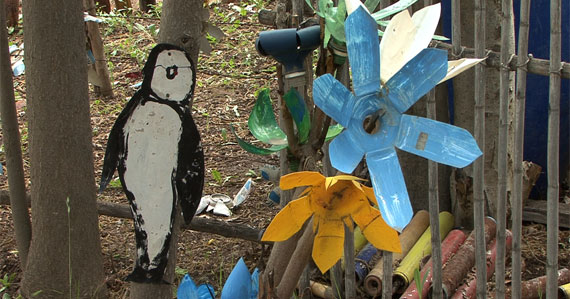 Enjoy your life in the "indian" heaven now Alonso…
Next step in Patagonia…The discovery of the Magellic Pingouins…For sure: Another story!


Magellic Penguins
To watch how Hachille enjoy driving in the mud to visit Pinguins, click here
After two days more spent under the rain, the sun come back! Great! We can drive to Punta Tumbo, this natural and protected area where 500 000 penguins are living!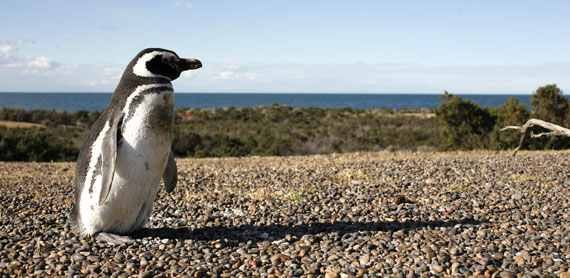 The beaches are really crowdy for sure!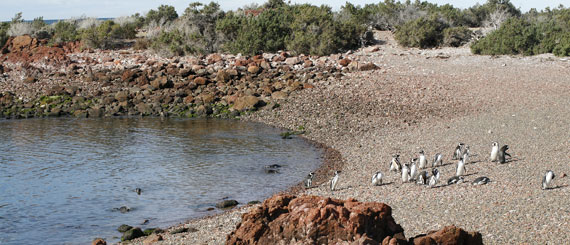 It is here also where lots of sea animals are reproducing themselves. We watched the Pingüino Patagonico during hours and hours.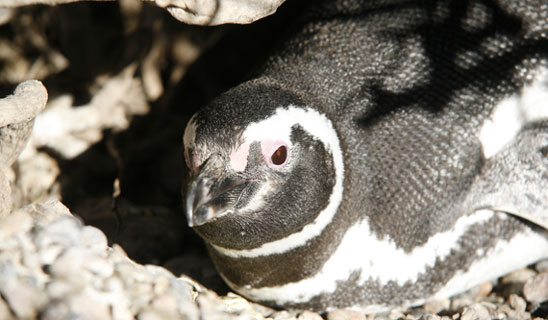 They are so cuddly and brave, and also smelly!!!! Bouhhh!
While the male is feeding and keeping the babies, the female goes in the sea, searching for food. Sometimes their nest are really far from the beach (nearly 1 km) and they walk and walk all the day with their foot…Shifting from foot to foot.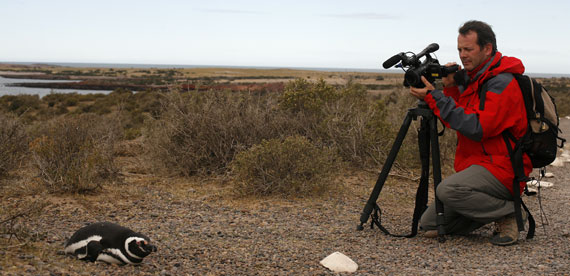 So funny! But be careful! They can be easily upset if you enter too much in their territory. During our walk in the park, one of them is trying to hit the Yann's legs with his beak. We can escape after 10 mn. Sorry Penguin, we didn't pay attention to your territory! …
We take our time to explore this beautiful area and today, it is one of our best remember from Argentina!
Bye bye all of you and see you in another trip…for another story..may be…


Natural Heritage
After a step in Puerto Deseado and a drive on this wonderful ruta 3, all along the Atlantic coast, we drive further more inside the country where strange animals are living in a very dry area.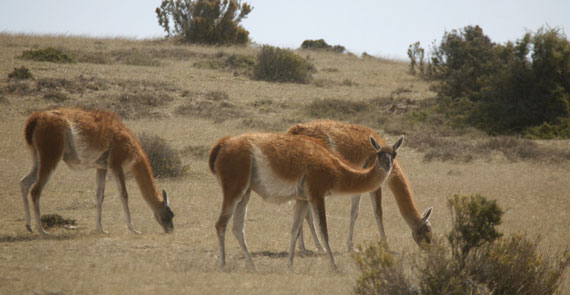 The names? Nandus, Choïques, Guanacos, Pitchis, Zorros Cuelpos (foxes), etc…. We discover all these animals during the drive. We are lucky! A drive inside the country can be very long!!! We decide to discover what we call "the petrified forest". From Puerto Deseado, it is 250 km south - west with nothing to see except some of these animals named previously. And what a wind also! Hachille is doing his best but the patagonian wind is not a nice gift! Hey! Our travelling companion is for the moment succeeding! Thanks Hachille and go!....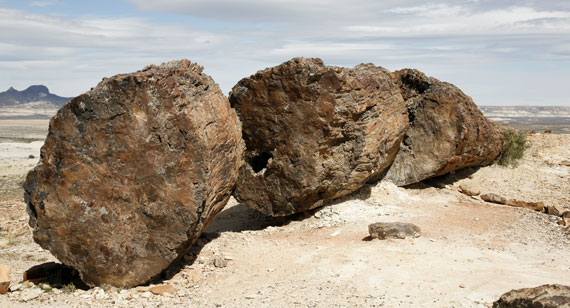 The story of this petrified forest is like…"Once upon a time, a continent was created with animals, trees, and so on…". Billions of years later, with the tectonic and climatic changes, the landscape, very green before is today very dry. We discovered the old forest where all the trees are been fossilized. Amazing.





Just for information: From this protected area, if you want to take some wood for a barbecue, forget about or try to convince the guardaparque not very open!...
To watch our video about the petrified forest, click here
Here is for this bracket before to reach again the ruta 3 and the Altantic coast…. Another story…


Ruta 3, the Altantic coast
We could think because we are close to the ocean that we could really enjoy with fish dishes. Not at all! Just a dream!!! Puerto Deseado for example where we spent some nice moments is an awful city for having a delicious fish dish! The same for Puerto San Julian and others places.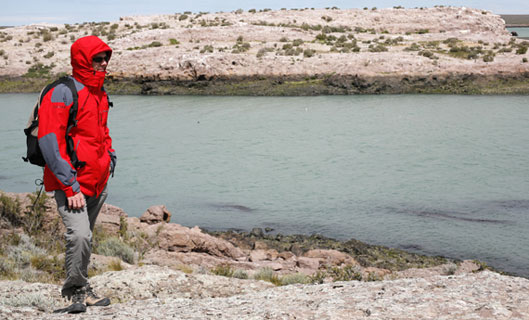 Never mind, we're still enjoying the famous argentinian meat! Since we arrived, we forgot to count how many barbecues we made but may be we don't want to know!!!!....
Puerto San Julian, the next step in our trip. This city is a peninsula where lot of cormorant species are living. A few kilometers far from the city, a panel shows "Coast tour- 30 km".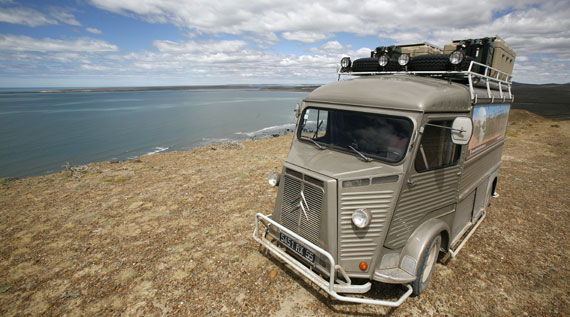 We decide to go there and follow the small road where a beautiful sun is shimming on a sea sometimes blue, sometimes green. All around the bay, there are beautiful beaches really preserved.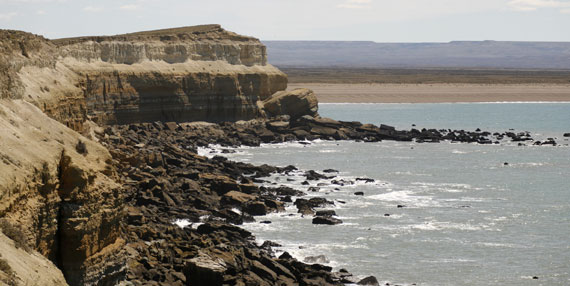 It seems that nobody goes there! A paradise! This seaside is the old ruta 3. Today it is classified as a nature reserve. All the beaches's got a name as Mina for example where many animals (like sea lions or seals) look happy, enjoying their freedom and the sun.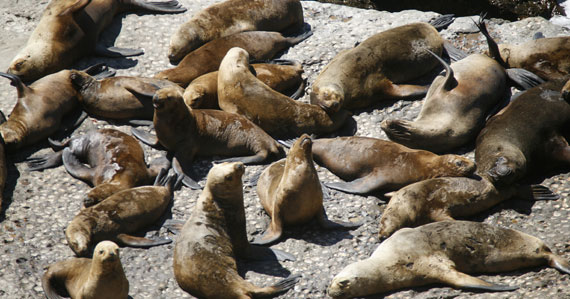 You can know immediately if the area is hidding some marine animals just with the smell…Such a hard smell! But such a wonderful show! So no complain! Breathe and enjoy your freedom.




What do you think Hachille?...
It is always difficult to leave an area so pure but we have to go further more and because we know that others surprises are coming,…We leave Puerto San Julian…for another story…



Monte Leone
180 km south from Puerto San Julian, which means 2 hours on the road for Hachille (a good success with 80km/h!), we reach Monte Leone. This name comes from an estancia where a hotel is building at the moment.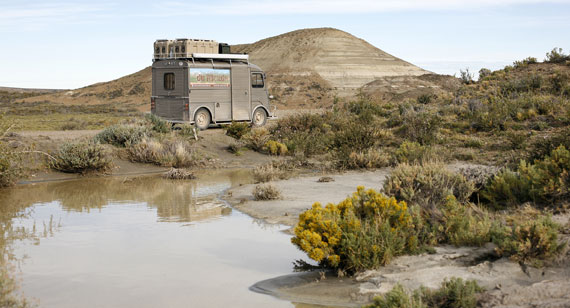 For the moment, lands are still virgins. We let pass some guanacos, the lama's cousin still wild.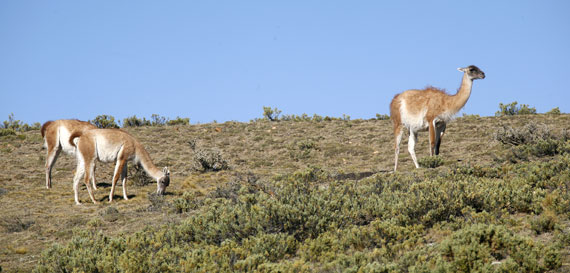 But since 2002, it is also a huge area classified as an argentinain Wildlife Marin Reserve.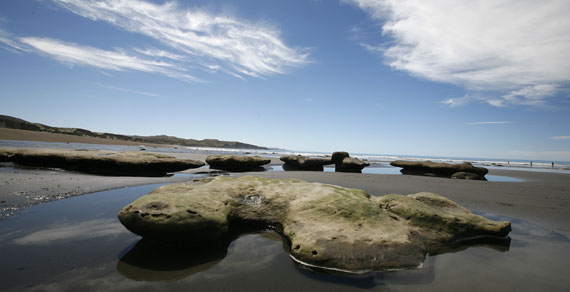 Ocean, beaches, and small islands are surrounding the valley, this amazing landscape and all the gorges. During three days, in front of the sea, with a wonderful shinny weather, we park Hachille and explore this area.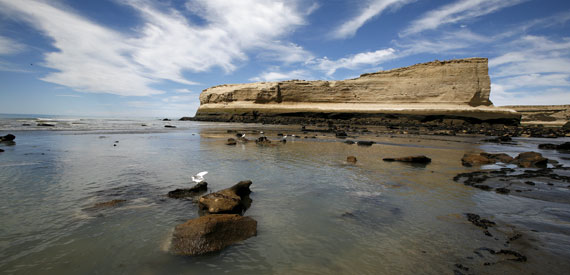 At low tide, we discover some old caves whose one very famous is been collapsed in september 2006. It is a heaven for birds like Guanos (cormorans' race). Today they are protected but until the 30', their excrements were used as fertilizers for the agriculture.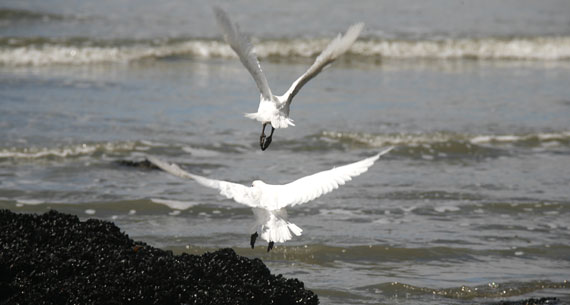 The island where you can observe these birds is impossible to reach but we take our time to watch them even if they are far.
A few kilometers far from the island, some Magellan Pingouins are living.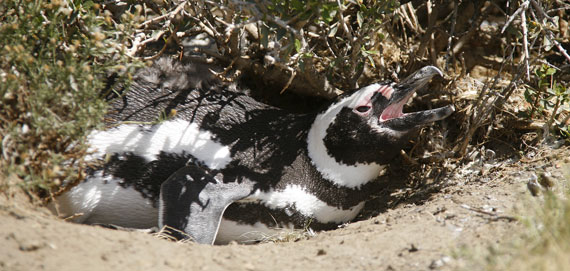 The are still into a reproducing time but during the walk, we feel sorry for them. Many of them have got some black oil on their feathers, many are also dead.





The show is awful. The reason? Simple as usual! Lots of boats are dumping their used oil not really far from the coasts and they are polluting the area. So first pingouins are eating this oil. Secondly when the feathers are dirty they cannot breathe anymore and they start to die! But close to this awful show, male are sitting on whereas the female go for having a fresh bath under the water! We watch this beautiful show during hours and hours and we think again how these little and sweet animals can be brave.
For sure we are not at the end of many surprises in Patagoni and its great landscape. So let's go further more in this beautiful and big territory for enjoying!
Ushuaïa is not really far but the cold and windy weather change our plan. And even if the summer seems to be closed, the temperatures are really hard! So we decide to wait for reaching Tierra del Fuego and the world's end. We go to the west side of Argentina. El Chalten. Located in the heart of the Andes, a trek in the Fitz Roy region is waiting for us… But this is, for sure, another story….



back to road book list