The team
On the road
Géraldine Carême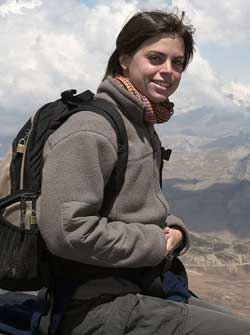 Presenter and globetrotter... Géraldine Carême is fore mostly a traveller who takes the road to discover the world. She shares her travel adventures with other viewers or listeners via the radio or the screen. It is her who enables us to experience these unforgettable moments of this adventure through live panels and broadcasts. Presenter and globetrotter...

With much experience in Radio, TV, and advertising, Géraldine has not just started out. Her voice is particularly well-known in the world of radio, especially in the network region of France Bleu and the local radio stations of Radio France on which she has presented a wide variety of shows. She is also the voice of numerous radio commercials as well as corporate films and other TV programmes. Indeed, Géraldine is as comfortable and confident in front of the camera as she is behind the microphone. She has for instance produced and presented a TV programme on European citizenship for RTL TV and has directed a number of reports on that same channel.
Her sense of curiosity and interest in current affairs has led her to be the news editor of the news bulletin of RTL TV on numerous occasions.
"Sur les chemins du monde" is a new opportunity for Géraldine Carême, enabling her to combine two of her deepest passions: travelling and reporting. She is full of new ideas and is a fighter, creating new projects and making them a success, whatever it takes.
This medley of genres and actions make this project a dish full of different flavours and spices, which, accompanied with an excellent wine, will make you discover her lust for life.
Yann Figuet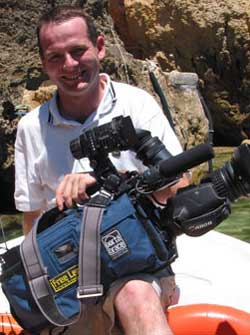 Being a journalist, cameraman and photographer, Yann has two passions: the picture and travelling. For him, the new experiences and unusual encounters that travelling brings, means opening up your senses and your mind. Yann likens each journey to a textbook: it combines history, geography, cookery, languages; travelling is the school for life.

For Yann, the image is a means of expression and of communication. Whether it be in its still or its animated form, the image allows him to report events, record experiences and share them with others. Having worked for various European and international TV channels, Yann has produced a great number of documentaries and reports all over the world. Yann also works as a photographer for different European magazines. For him, the still picture has a mysterious side to it. It is a story that is not explicitly told and reported on, but leaves room for interpretation.
Having been trained to and experienced in working in extreme conditions such as earthquakes and wars, Yann has all the skills and technical know-how to produce video as well as audio reports and picture material even in the harshest conditions.
The team
In France:
Audiovisual Team
A project of this kind can only be successful with the support of a reliable team and a solid structure, firmly established in France. This is the business of Free Lens TV, an audio-visual production company, which establishes the link between the team at work, the different broadcasters and the wider public. Benefiting from great experience in the production of audio-visual programs, Free Lens TV produces television material for networks all around the world on a daily basis.Free Lens TV travels the world in order to offer you the best news, documentaries and reports. Among its biggest clients, Free Lens TV can count RTL, TVI (1st private Belgian channel), ARD and ZDF (1st and 2nd German channels) Deutsche Welle (1st worldwide German channel), BBC World (1st worldwide information channel), RTL Luxembourg and also Fuji TV Japan, Canal+ France, France 3, Pro 7 Germany, NBC United States, RTL 9 and many others. Morocco, Bolivia, Chile, Mexico, United States, Canada, Thailand, Vietnam, Island... the production teams has international know-how and has already produced numerous programs on travelling as, for example, a series for RTL Luxembourg and various discovery programs for the German channel "Deutsche Welle". The latest production consists in a complete coverage of the cycling Tour de France for the American channel Versus TV. The management of "sur les chemins du monde" (the world is your oyster) is directly produced through the Luxembourg branch. The complete preparations of the program as well as its post-production are completely managed internally.